Regular price
$1,399.99 USD
Regular price
$1,499.99 USD
Sale price
$1,399.99 USD
Unit price
per
Sale
Sold out
Free shipping in US except Hawaii and Alaska
Toray T700 Supreme Carbon Fiber Frame

Shimano Sora 9 x 2 = 18 Speeds

Minimal design for custom club logo

Total bike weight : 18.7 lb - Item Location: Corona, CA, United States

Limited Lifetime Warranty on Model H Carbon Frame, 1 year mechanical parts
Share
View full details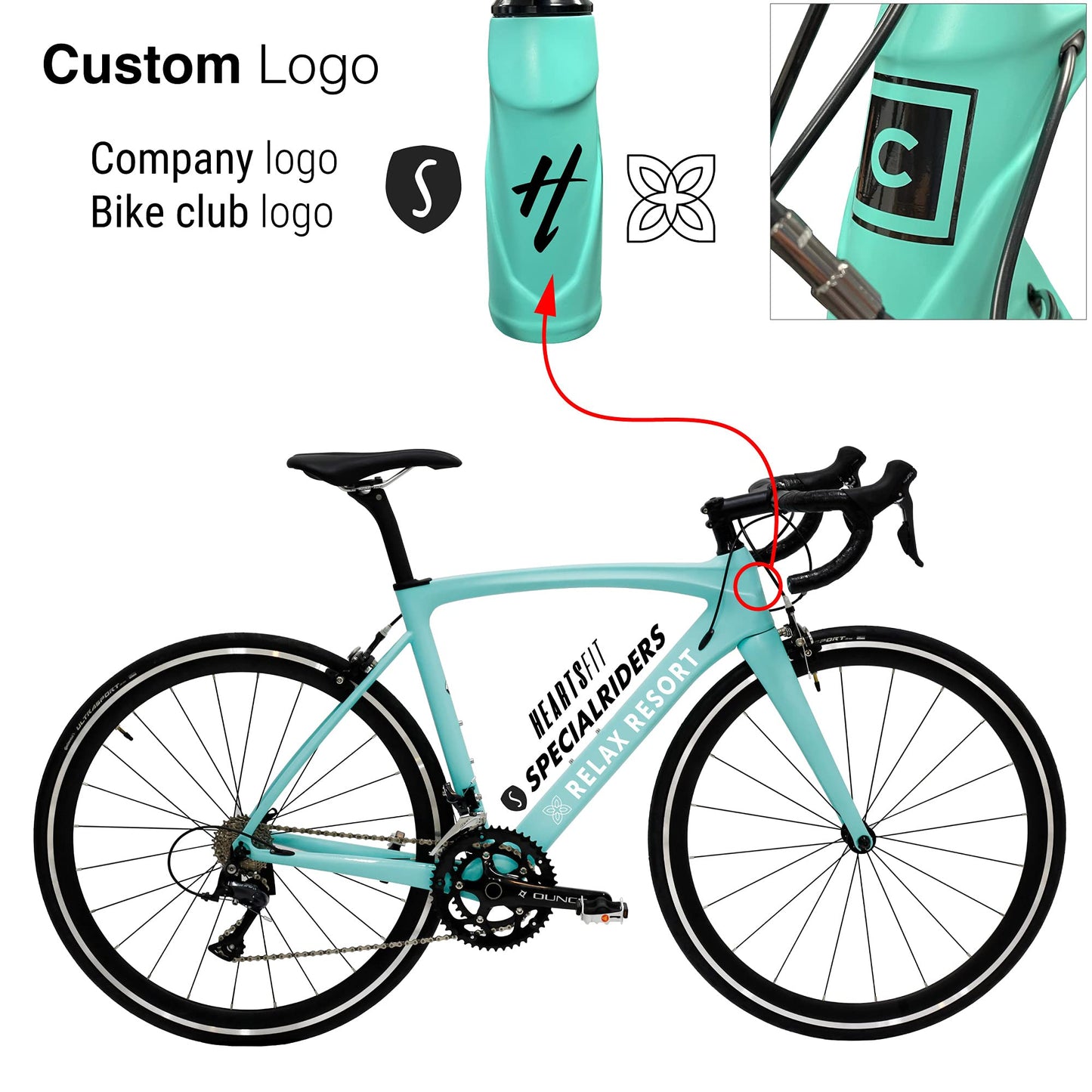 How to apply a custom decal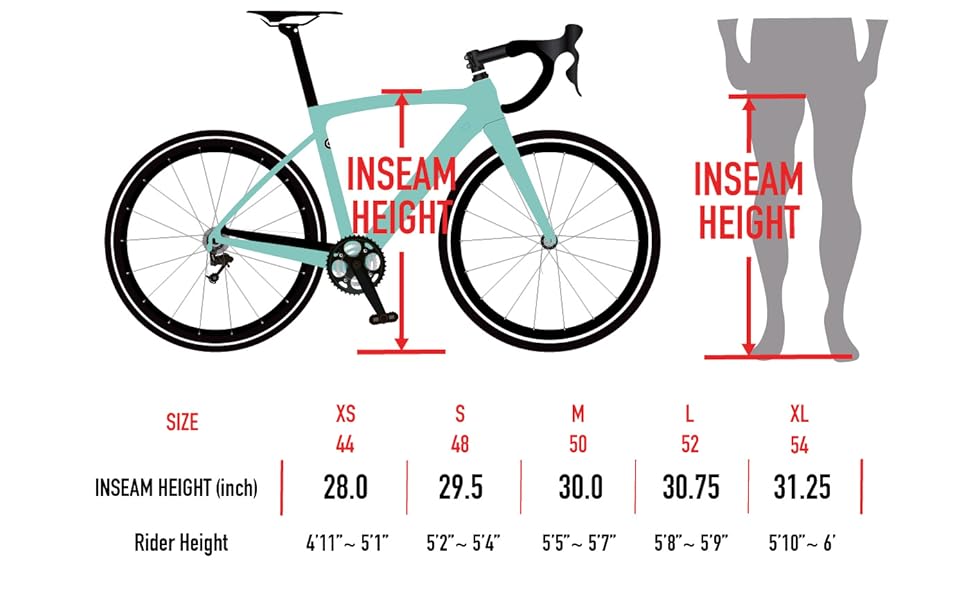 Model H Size Chart
Please check your height and inseam for your bike.
If you have any questions, please contact us by email or phone.
care@heartsbio.com : 951-204-3150
Button label
Carbon Bike Q&A
Is this product 100% US made?

Derailleur shifters, a front and a rear derailleur (SORA) are from Shimano Japan. Carbon frame is from China. 
What's the max tire clearance?

It fits up to 700x28mm gravel tires.
What is the crank length for a size 44/48/50/52/54?
How can I get a custom bike logo?

Please contact us by an email or phone.

Customer care email :  care@heartsbio.com

951-204-3150
What kind of tools that I needed to assemble the bike?

Tools are included in a package. Please check the bike assembly video above.
Can I return the bike?

Yes. If it's not for you, no problem. We'll refund your entire order—no questions asked.
Details
Feature

Toray T700 Supreme Carbon Fiber Frame
Shimano Sora 9 x 2 = 18 Speeds
Continental 700c x 25c Road Tire
Total bike weight : 18.7 lb
Item Location: May 29, 2020 in Corona, CA, United States 
Lifetime Limited Warranty on Model H Carbon Frame, 1 year mechanical parts

Content included

HeartsFit Model H Carbon Frame Bike – 1ea
HeartsFit Ergonomic Bike Saddle – 1ea

Assembly manual
Comes with Free Tech Support: Hearts Bio Inc.
Item Location: Corona, CA, United States
Category: HeartsFit

Description

HeartsFit Model H – Carbon Frame Road Bike
Simple and Easy-to-install package ( Unboxing & Assembly video )
Today T700 Supreme carbon fiber frame – Frame Body System – Frame : Carbon T700 R03 : 700C x 440 / 480 / 500 / 520 / 540mm
Front Fork : Carbon T700 R03 100mm – Handle Bar : 420L x 31.8 Matt Black – Stem : 3D Forged 31.8 x 100L – Grip : PU+EVA Black
Saddle : HeartsBio anti-numbing saddle black – Seat Post : Carbon T700 R03 350mm
Headset : Bearing 1-1/8" 28.6 x 41.8 x 52 x 39.8
Derailleur / Brake System
Derailleur lever : Shimano Sora ST-R3000 2 x 9 = 18 Speed
Front derailleur : Shimano Sora FD-R3000 for rear 9 speed
Rear derailleur : Shimano Sora RD-R3000 SS
Brake : P4000DG Front : 30 x 18mm Rear : 12.8 x 10.5mm black
Transmission System – Cassette : 11-25 9S CP – Sprocket Set : Ounce 34/50T x 170mm – Chain : Z99 1/2 x 11/128" 108L – Pedal : LP-658A Alloy
Wheelset System – Wheelset : Alloy 700C x 14G x 20H/24H F/V CNC – Hub : XY, 20H x 14G x M9 x 100 x 108 / 24H x 14G x M10 x 130 x 140 Anodized black 
Tire : Continental 25-622 ( 700C x 25C ) Ultrasports
Total bike weight – 18.7 lb
I just wanted to express my gratitude to Hearts Bio Road bike.
I just wanted to express my gratitude to Hearts Bio Road bike which was my very first road bike purchase. And after much thought on how this was going to occur I ended up finding out about the HeartsBio road bike through my discovery phase of trying to find the best value, lightest and great looking bike. And this bike covers all those factors. I was in search of a carbon fiber frame with integrated cable system that was light. I got all that and then some with HeartsBio. I am so glad I made the purchase. If you are a first time bike enthusiasts or looking to get into biking this bike is great. Or if you are an experienced biker and want a great value of a road bike this is truly it. I have nothing negative to say except I wish I would have discovered this bike sooner. Thank you Hearts Bio!!!
This bike is awesome!
This bike is awesome! With the carbon frame/fork/seat post and other pieces, it's super light. It's lighter than my 6 year olds bike. Assembly is super easy, the twist of a few allen wrenches and you're almost done. Even the seat post is carbon, great components, I put carbon fiber clip in pedals for added control, it is so feakin' fast!! Super stoked! I've only been riding it for a few weeks now and I have it all dialed in. For a full carbon bike, you can't beat the price, I researched for months....and even after finding this one, I continued to research this bike and others to make sure this is it, the forever bike. And my legs feel like they are getting more of a workout now and I'm traveling almost twice a fast. Nothing but good vibes to HeartsBio for their help and attention to detail.
After much research & consideration,
After much research & consideration, I purchased the HeartsBio Carbon Frame Road Bike as my very first road bike and I'm so happy I did. Prior to purchase, I was in touch with the owner, Joseph, who kindly and promptly answered any questions I had prior to purchase. My main concern was to obtain a bike that was lightweight, minimal in design, and within my price point--the HB bike meets all these criteria. Upon arrival and quick assembly, I realized the seat post was too high for my geometry; however, Joseph quickly responded to my issue and he immediately sent a trimmed seat post (also carbon, btw) that would work for my height. Since then, I have ridden my bike all around NYC and beyond including completing my first century ride! Due to the light weight of the carbon frame, my average speed has increased significantly (versus the heavy hybrid I used to ride) and I feel I'm able to conquer steep inclines with greater ease while maintaining endurance for long distance rides. It's also worth mentioning the Shimano Sora group set shifts gears seamlessly. Wonderful bike through and through. Highly recommended. Thank you Joseph and HeartsBio!
This bike is super fast and light!
This bike is super fast and light! It's awesome! Thank You! I highly recommend this bike!
the best experience and best customer service
La mejor experiencia en servicio al cliente todo desde el principo hasta el final ?..the best experience and best customer service from the beginning to the final good experience